TH!NK post
This article is archived. Comments are closed.
Formula Green – how F1 can fight global warming
Published 24th October 2009 - 16 comments - 5415 views -
At first sight, you may think that Formula One has nothing to do with politics. Or with climate changes, because the emissions of 20 cars in the most famous motorsport category are inexpressive – one entire F1 season uses less oil than an Sao Paulo-New York flight (see the post comments). But look closer. I think you will change your ideas.
All improvements in your car came from F1. ABS braking system? Yes. Multipoint fuel injection? Also. Hydraulic steering? I think you already know the answer... So, why Formula One could not lead the fight against climate changes?
Several studies reports that 40% of CO2 emissions accounts for cars. It´s an expressive piece of this (bad) cake. So, one of the missions of FIA new president´s Jean Todt is deal with global warming. And another French, former champion Alain Prost send the message: "Formula One must be the avant-garde of green automotive". Prost remains F1 tradition of being car industry best laboratory.
Few years ago, motorsport biggest fear was the eruption of a war in Middle East. In this situation, fuel would be rationated. But we had more oil reserves discoveries in the latest years. The real issue is global warming. In a scenario of cutting emissions, the core of motosport is hurt. How we can preserve racing without make damage to environment?

Motorsport cars emissions accounts only 5% of the total. Other 95% come from fans driving to see the events, staffers jetting to the races. Attacking Formula 1 is attacking a symbol. Develop better cars is the the reason for manufactures stay in Formula One. We expect then to make less polluters cars. Only Toyota spent US$ 500 million dollars on its F1 team. Part of this money must be used to make sustainble cars.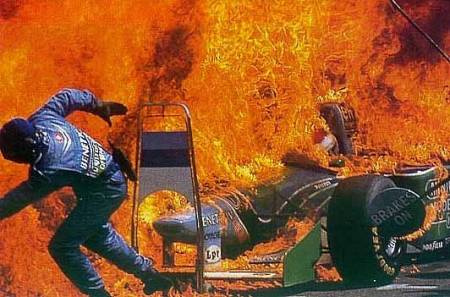 Photo: Fire on Jos Verstappen refuel in 1994 German GP (Madtv.me.uk)
Two are the ways to achieve the change forward to greener cars: alternative fuels or energy storage. The second one seems failed. In 2010, Formula 1 will not use KERS, device used to store kinetic energy wasted to brake the cars. The lasting option is fuel motorsport with renewable energies.
Even Formula 1 foresees the need of a transition to biofuels. This perception came from a poll with fans, made by FIA.FIA's former president, Max Mosley stated: "The sport is moving away from the technology of the 20th century to the technology of the 21st. It is only by doing that that we can prevent Formula 1 starting to be labeled as a dinosaur."
IRL is leading this process, and since 2007, the USA category is using 100% ethanol motors. Former IRL fuel was methanol – the transition was easy because they are very close in chemical make-up. And the cars had no change on speed, sound or performance.
But even when regulations allow it, it is hard to use biofuels. Engeneers are not sure about the difference between all kinds of renewable sources. The absence of governmental standards on biofuels is another issue. And last, but not least: the oil lobby.
The small emissions of Formula One cars may not be part of global warming problem. But I am quite sure they can be part of the solution.

PS - Update on October 31st: The post has repercussion on F1 blog of Folha de S. Paulo - biggest Brazilian newspaper: http://migre.me/aqWv
Comments
This article is archived. Comments are closed.